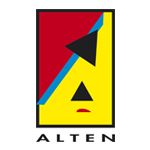 WIRING & HARNESS ENGINEER
Do you want to take the next step in your career? We are looking for wiring engineers who will be responsible for designing and constructing electrical systems (CAD, electrical- and bundle substrates).
At ALTEN, it is a certanty to adapt your own work situation according to your life situation.
With us, you have the opportunity to influence vacation, education, payroll and benefits.
And for our customers, it means they get the most engaging technology consultants.
Personal qualities we value is your ability to act independently and professionally.
You are positive, outgoing and driven with the ability to create and maintain good relationships with our customers.
You are stimulated by problemsolving and use your creativity to find new solutions.
Of course you have a genuine technological interest! We will pay particular attention to personal qualities.
We are now looking for you with a engineer with a focus on electronics or mechanical engineering.
It is meritorious with experience from the automotive industry and if you have previously worked within Catia, Creo and/or Saber Harness and Saber Bundle.
Does following suit you?
- Ability to handle parallel projects and deliveries
- Ability to handle stress
- Good communication skills in both Swedish and English
- Good written qualities in Swedish and English
- Good social skills and has the ability to create contacts and contribute to the group's positive atmosphere
- The will to learn new things
- A servicemindset
What you will do is develop and maintain wiring designs for existing and new systems, CAD, wiring assembly and electrical components.
You will draw electrical diagrams and provide the design documentation to the supplier, compile and specify requirements from design, system owners, aftermarket and production and manage deviations on the designs.
We look forward to your application! For more information regarding the job ad, Contact Johan Schulz, Groupmanager at ALTEN, Johan.Schulz@alten.se
ABOUT ALTEN
At ALTEN it is our conviction that real commitment for our consultants is created through the choice and the opportunity to influence their own personal development.
This choice allows us to offer our customers the most committed consultants, regardless of assignments.
As part of the ALTEN Group, we have over 30.000 employees and operations in 20 countries. In Sweden around 1 800 employees. We develop and deliver competence for world-leading companies through the most committed engineering and IT consultants.
Our customers are in industries such as Telecom, Automotive, Defence & Aerospace, Life Science and Industry, and we are active throughout the product chain.
Thanks to a successful concept in which we utilize the expertise of experienced consultants and develop young abilities towards a successful career, we have gained ground in many industries.
Our Techno department is based on the same successful concept with the same strong structure within the field of expertise that includes knowledge within powertrain, Medtech and Aerospace etc.
Why should you work at ATLEN? Because as an employee at ALTEN, we offer you a competitive salary based on your performance and work experience.
You also have the opportunity to influence your assignments, different benefits and your overall working environment as well as choose your career path.
We offer a wide range of internal trainings and an opportunity to plan for an international career.
It is our conviction that genuine commitment is created through choice and the ability to influence your own personal development - our business model provides that opportunity.
This freedom of choice enables us to offer our clients the most committed consultants, regardless of assignments. 
What we offer you
Every employee is equally valuable in the success of ALTEN! We are driven by making people grow and develop, which is why we offer you the opportunity to work with what you are truly passionate about.
At ALTEN, we have a broad range of assignments at most of the leading companies in Sweden in several different sectors, to make it possible for your wishes to come true.
We offer both national and international opportunities and together with your coaching manager, you build your career path so you constantly are able to develop and achieve your goals and dreams!
As a consultant at ALTEN, you will get the genuine team feeling at your assignment but also a wonderful togetherness at ALTEN.
Through our different internal networks, such as ALTEN Sports, Women@ALTEN and ALTEN Innovation you will get the opportunity to drive topics and activities that are close to your heart, together with your colleagues.
All activities are of course optional.
Work life balance is our top priority.
We also have a collective agreement and other benefits like Pension, Insurances and Wellness grants.
At ALTEN we believe in growing together.
Please note: Between 4th july and 15th August 2019 we will not be able to answer questions due to vacation.
No selection will be made during this period.
Källa:
ArbetsAnnonser.se